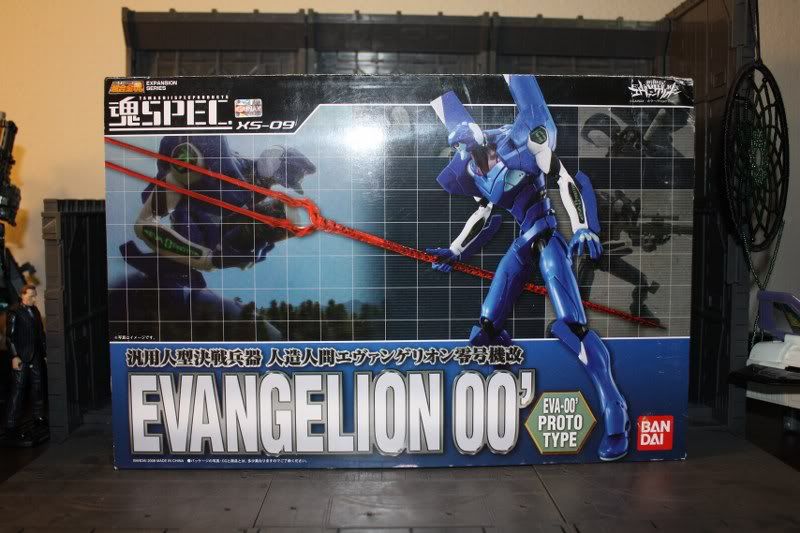 Now, I'm slightly embarrassed to admit that I've not watched Evangelion in it's entirety, so the only background you're getting here is the little I've gleamed from the few bits and pieces I've seen, and from my good friend that's seen the whole run. Neon Genesis Evangelion started back in 1995, which is pretty recent, compared to most of the sources that Bandai's pulled figures from for the SOC lines. Since then it's become one of the most iconic super robot animes. Evangelions, or Evas, are somewhat unusual in that they're not straight up robots, but are actually largely organic, with some cyborg augmentation. There's something in the fiction about them actually being derived somehow from angels.
As you can see, there are quite a few bits of armor to attach, about half of them, I'd say, are diecast metal. There is a little bit of disassembly required to get the Eva fully suited up, you completely swap out the head, hands, feet, shoulders, and the "entry plug" point between the shoulder blades. Additionally you have to disconnect the legs at the knees, and pop the torso apart at the waist in order to fit all of the armor in place.
It takes a bit of time to put all of that armor on, but it's a lot of fun, and the end result is definitely worth the effort. The level of detail you can see all of the figure is amazing.
Evas require a massive amount of energy to fight, and at least to begin with, they are not able to generate that energy on their own, so they have to be charged up:
The similiarity to a gas pump nozzel always strikes me as really amusing.
Okay, so that's the weird random stuff, now, onto the weapons! First up is a handgun, with a removable clip, and functioning slide
Then every Eva has some weapons stashed in those shoulder fins, the initial fins don't actually have those, but they can be swapped out for some slightly thicker ones that do.
So, in closing, I really like this figure, it's a lot of fun, and if you're a fan of the series, I'd recommend you check it out, they made figures in this line of all the major Evas, but sadly they all seem to cost about twice as much as this figure does, so I'll likely not get any of the others.