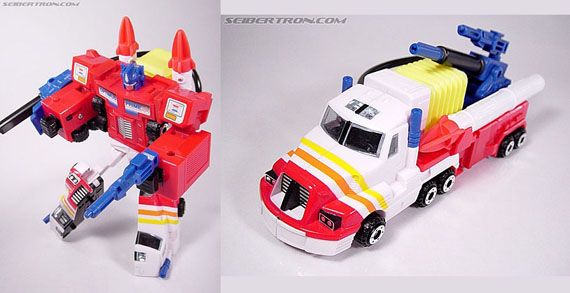 Image shamelessly stolen from Seibetron.com
Well, I'll be amazed if there still people out there that visit my blog, but since I'm not really doing this for you, I guess I can't feel too bad. Anyway, back in the Generation 2 era, they released a smaller Optimus Prime called Combat Hero Optimus Prime, and he looked as you see above, quite horribly so. I mentioned this figure in my review of the Generation 2 Laser Prime mold. Since then I've actually acquired a Destructicon Scourge, which is the repaint that happened shortly after the RID Scourge repaint of Laser Prime that I used for the review.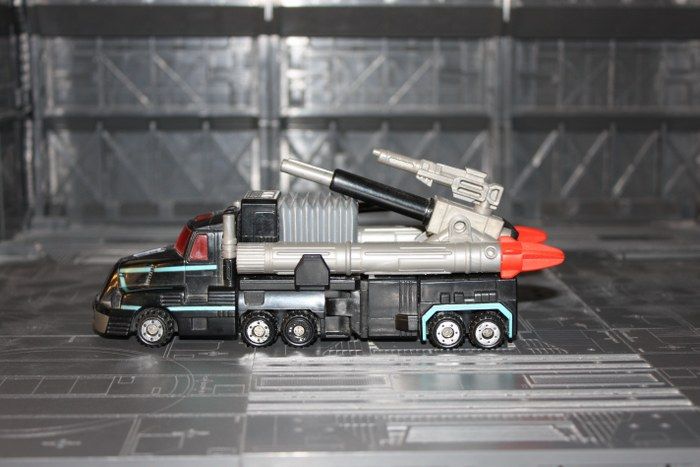 So, as you can see, the alternate mold for the toy is a kind of military missile truck., the whole deal is one integrated piece, not a cab and trailer.


The whole thing is not terribly big, maybe about six inches long.
This toy uses a similar gimmick to Laser Prime, in that there's a bellows operated missile launcher. The bellows is stored right up behind the cab of the truck, but in order to us it, it has to be detached. Then either of the two missiles can be placed onto the launcher, squish the bellows, and the missile fires.
My biggest problem with this gimmick is that there's no way to store the bellows that's not going to put at least one kink in the hose, which will eventually become a permanent kink. You can see in this pic that it's already happened where the hose meets the launcher, and it's done the same, to a lesser degree, near the bellows.
Transformation isn't particularly involve here, you fold the truck cab forward, making legs, and then you fold the arms down.
And there you've got it, he has a small gun, which can be stored on top of the launcher in vehicle mode, and then used in either hand. The missile launcher can also be used in robot mode, although it looks pretty ridiculous with one of those giant missiles hanging off his arm.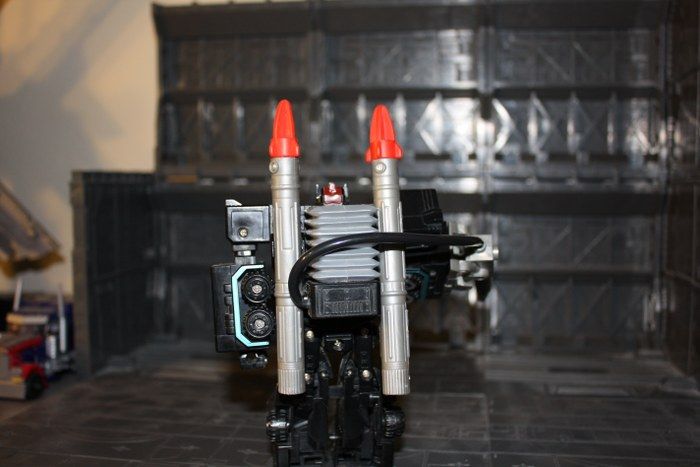 The missiles and the bellows both slot into the same spots they occupy in vehicle mode for storage, and again you can see that the hose has to be stretched in such a way as to kink it.
Again, not terribly big, but this was made as a lower entry point, so that you could have an Optimus Prime, without shelling out a lot of money. A strategy that Hasbro has since implemented in every toyline that I can think of. He is a little back heavy, but as long as you have his missile arm forward, he doesn't have any problems staying upright.
And just to wrap it up, here's the group shot. As you can see, he's the smallest Optimus Prime robot so far, and he doesn't even have the benefit of a trailer. Ultimately, he's not one of my favorite Primes, he's got decent articulation, but the combination of the hose and his back heaviness means you can really only pose him one way, and his gimmick definitely detracts from the figure overall.