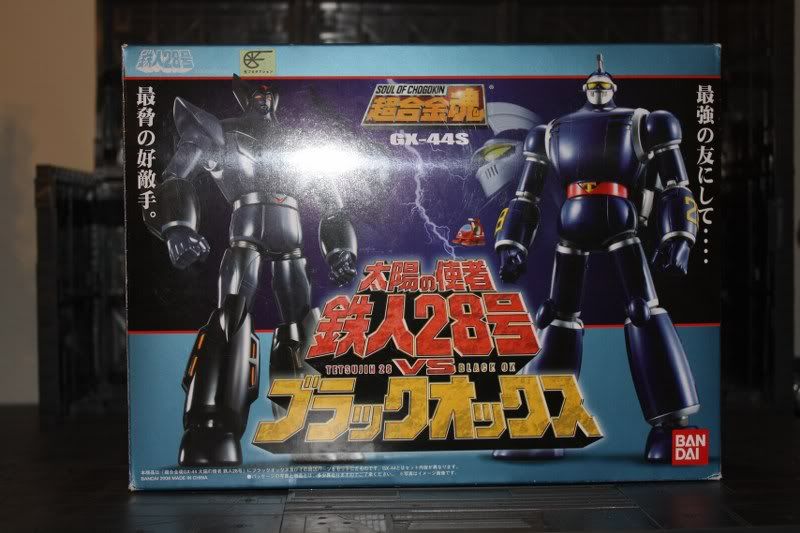 On the block today, we have the Tetsujin-28 VS Black Ox giftset. This is what I get when I buy things too impulsively.

So, prerequisite background. Tetsujing-28 is often credited with being the first super robot. I'm not saying that's false, or that there's a competitor for that title, I'm just not willing to speak with that much conviction based on info I read on Wikipedia. No matter how you look at it though, Tetsujin is old, he first appeared in his own manga in 1956. He stands out from most other super robots in that he's neither autonomous, nor piloted. He's actually remote controlled.

His primary combatant is the sinister looking Black Ox. Now, the designs that this set are based on, are not actually the designs from the 1956 manga, but rather a more modern reimagining, I don't know exactly when, because my only source, Wikipedia, didn't have any information on it.

Part of the reason I don't enjoy this set very much is because it's not based on the original designs, when it comes to buying Soul of Chogokin toys, I have three criteria that I use to decide if I'm going to buy it: Does it transform? Does it combine? Does it look cool? Typically, if it doesn't satisfy at least two of those, I don't get it. There are occasions where I'll get something if it just looks cool enough. The original retro designs of Tetsujin and Black Ox were enough to make me want them. I jumped on this set when I saw it on ebay, before I looked too closely at the box image, or even did any research.

With that OCD whining out of the way, on to the review!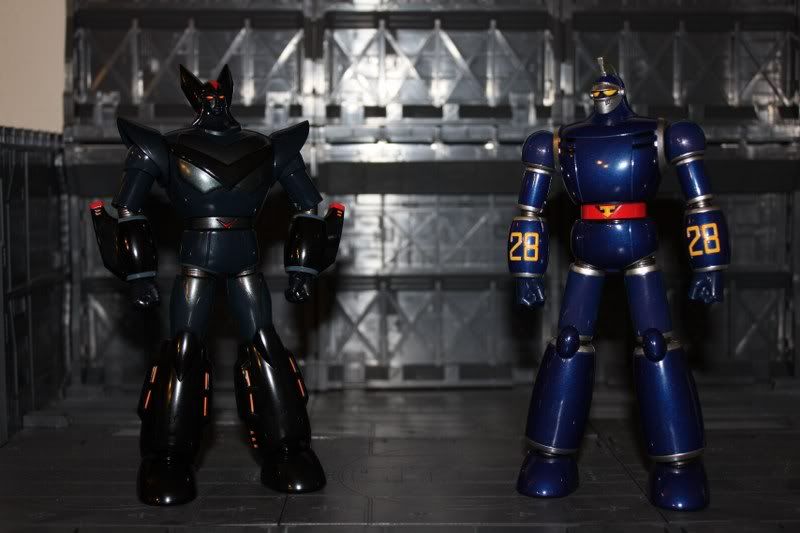 The two figures look sleek and stylish, and really cut an imposing figure while just standing there. The "28" on Tetsujin's forearms is very crisp and really stands out. Black Ox's black and gray color scheme is suitably sinister looking.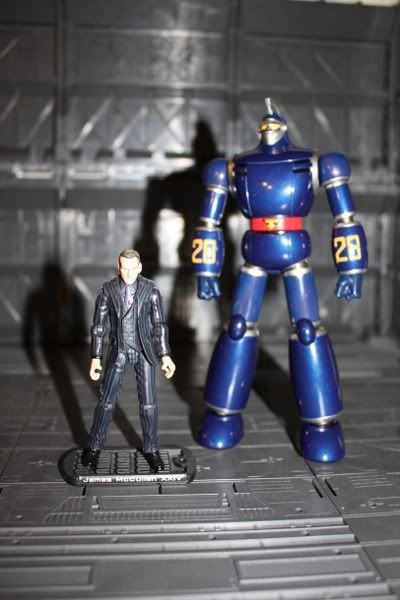 As always, my Christopher Eccleston GI Joe figure for scale reference.


Aside from the standard set of variant hands to swap out, Tetsujin does come with some pretty fun little knick knacks. We've got a scale size miniature of his child controller, which fits into an odd little hoverbike, a man sized robot, and then another miniature of the kid, using Tetsujin's remote control.


There's also a larger non scale version of the remote control, it folds up into a briefcase, and has a flip out handle.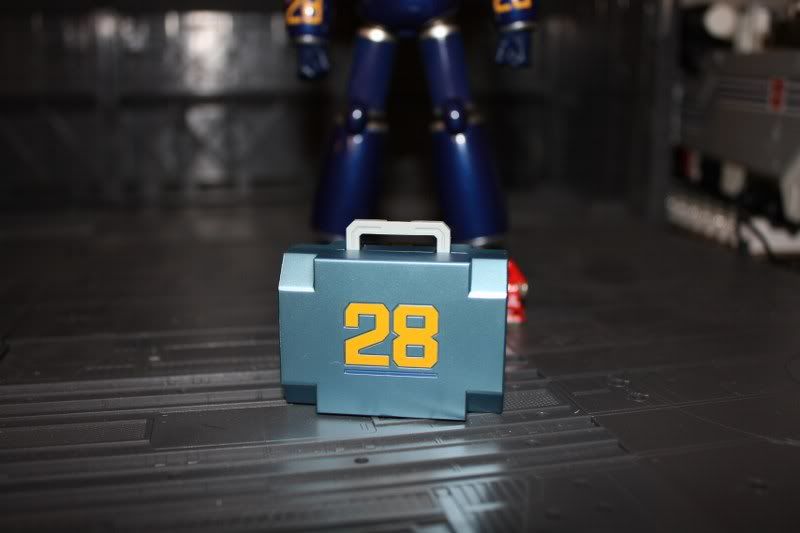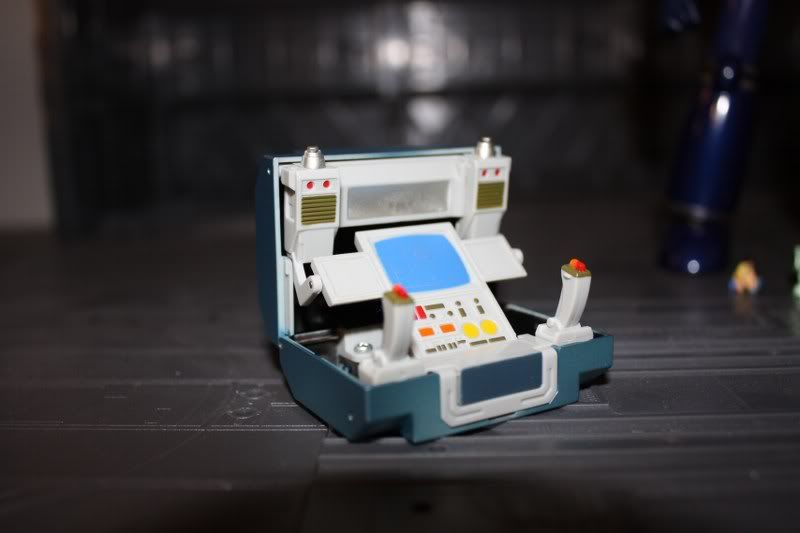 The best part about the case is that the control sticks are spring loaded, and snap out very suddenly when you've opened the case.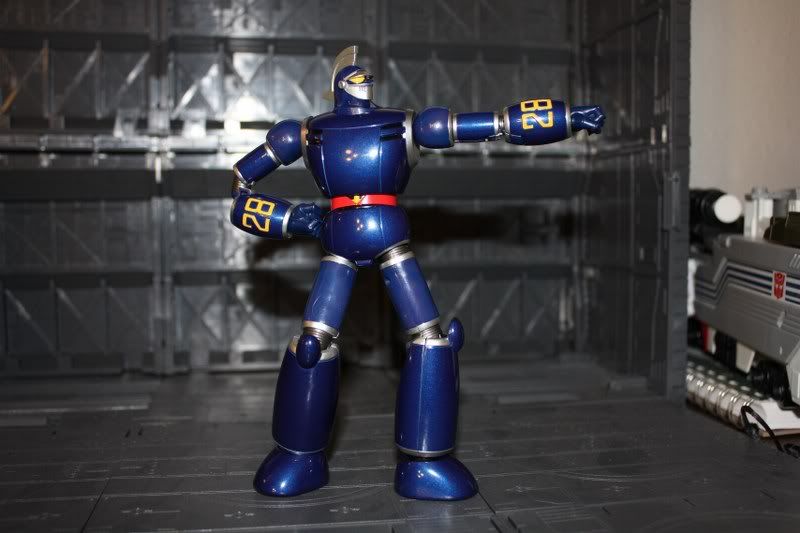 The bot itself has a very confusing level of articulation, he has double jointed elbows, and a collapsible panel on his calf that allows his foot to touch his ass, but at the same time, his hip joint has almost nil range of motion.


I suppose if you're going to be a rockstar guitarist and do power slides on a stage, that would be okay, but it really limits what you can do with a giant robot.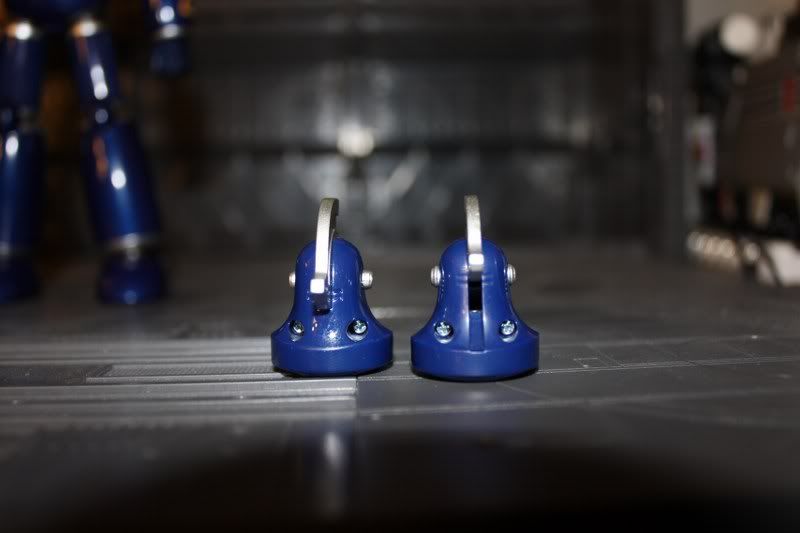 He comes with two heads, the only difference between the two being that one has the ability to stare upward. The other one I guess is a
little
cleaner, but really, the slot on the back of the head of the articulated one isn't that unsightly.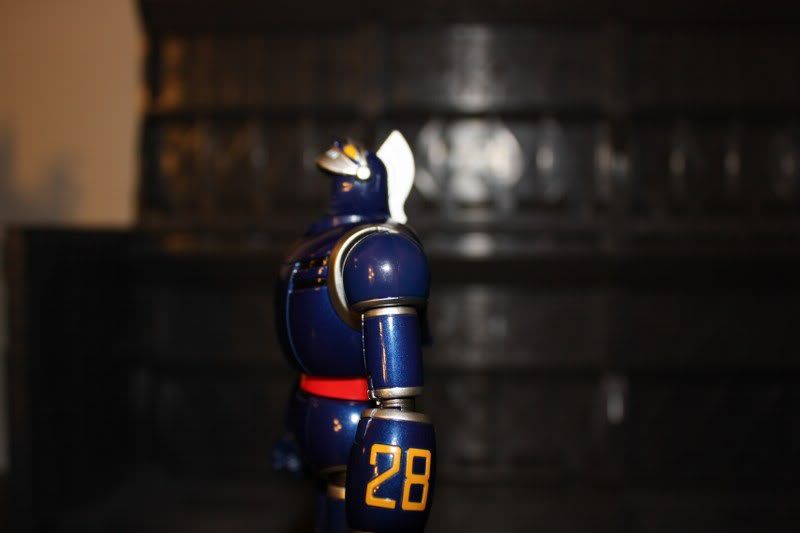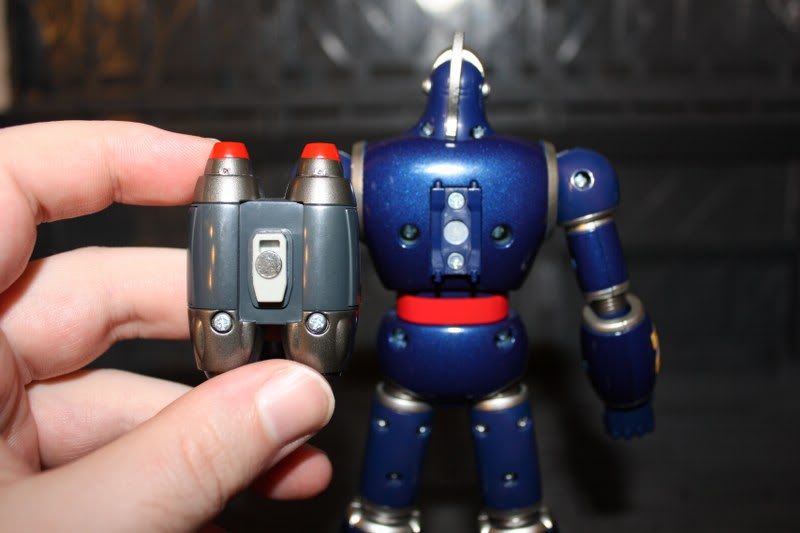 The whole reason behind him being able to stare straight up is to simulate flying, with a jet pack. The pack attaches via a magnetic mounting point.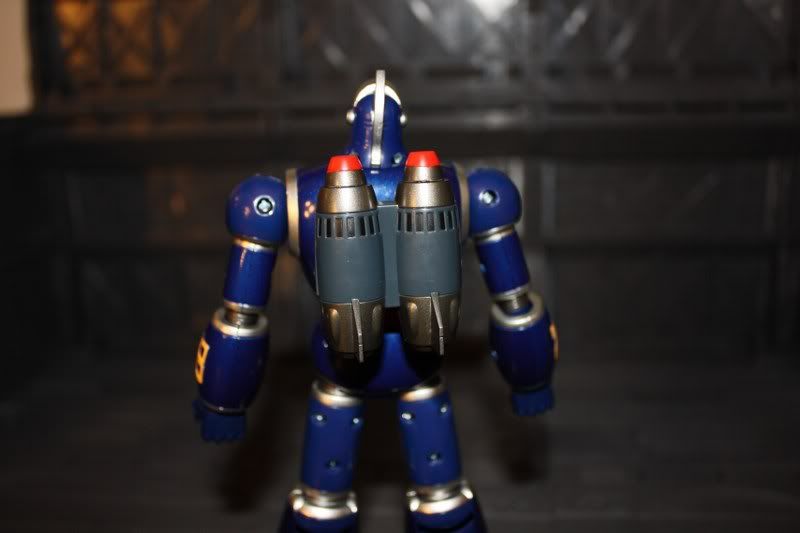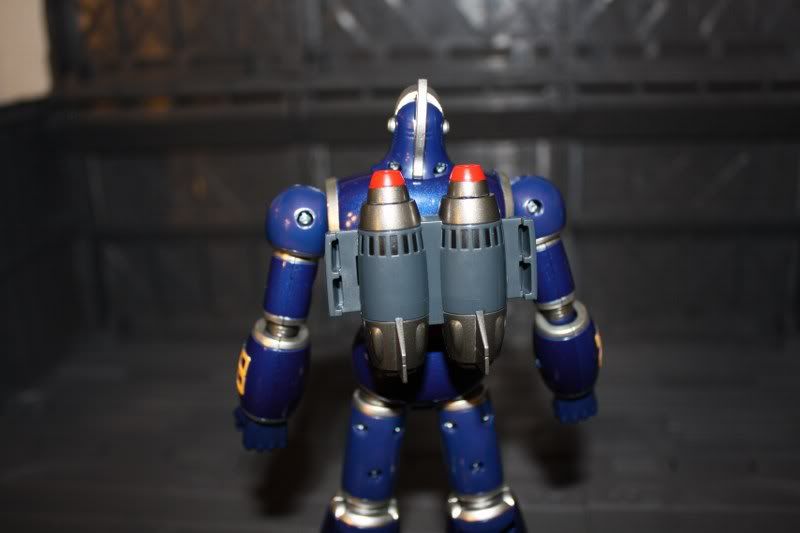 And pressing on it causes "wings" to deploy from the sides.

Black Ox is pretty much more of the same. He's got the same range of motion, with the maddeningly limited hip joints.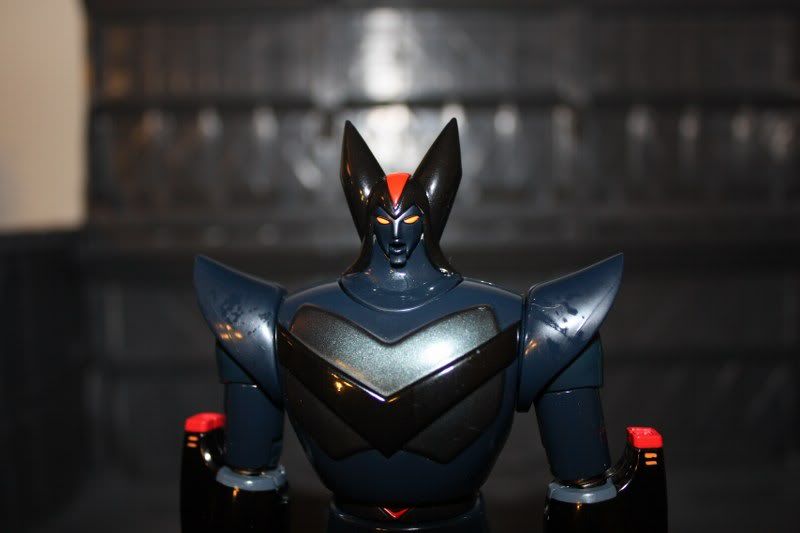 His default head has a mouth that opens and closes.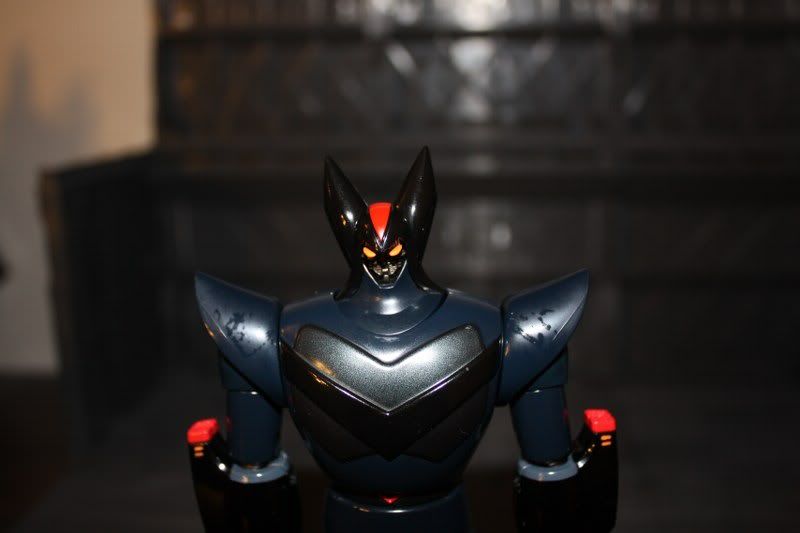 Which can be swapped out for a different head with a removable face plate. Underneath is generic machinery.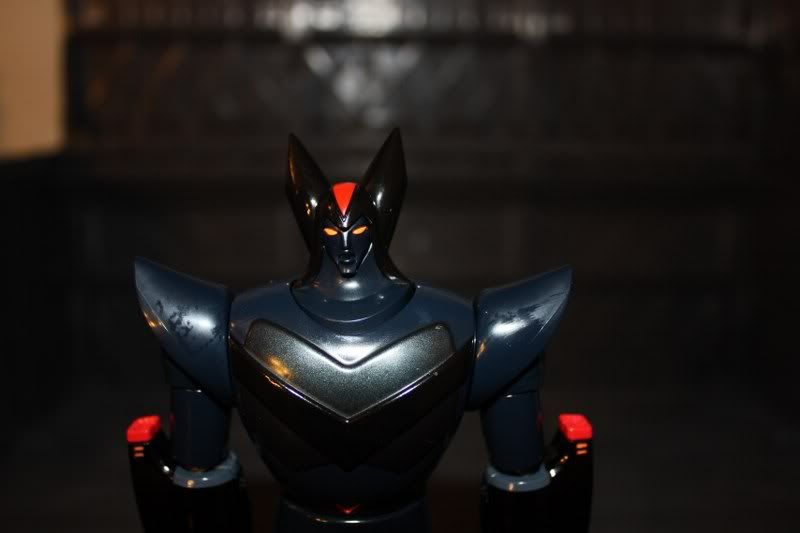 Again, with the faceplate applied, the head looks just as nice as the default head, which makes me wonder why the even bothered to include it.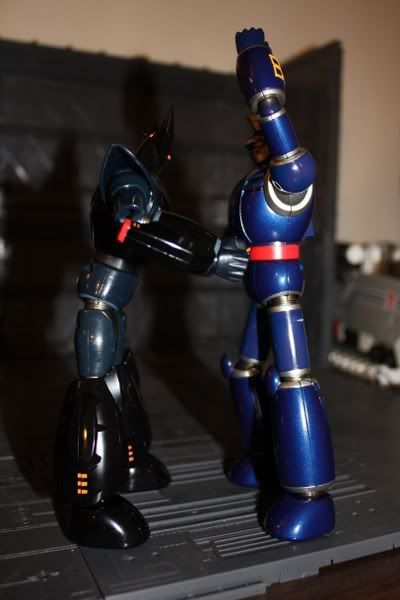 They do look pretty slick when you pose them duking it out

And lastly, they both include some very bland stands, that have spots for most of their accessories (The larger control unit is doomed to have nowhere to go). The SOC of the original Tetsujin design had a stand to go with the base, which allowed him to be displayed in a flying pose with the jetpack, I can't help but feel that this set would have benefited greatly from little flourishes like that.

So, there you have it, amusingly, their articulation isn't that much worse than most of the other SOCs I have, but as I've said, all of my other ones either transform or combine, so their articulation suffers for those gimmicks, these two don't have that excuse. Also, I'm just not in love with the look of them, they just seem kind of generic.

On top of all that, when I opened the sealed set, one of Black Ox's legs was broken, the post inside, that the screw fastens into was broken off, I managed to put it together fairly well with super glue, but the plastic tends to gap apart, and the joint just isn't as tight as the other leg.

That's an awful lot going against these guys from my point of view, your mileage may vary depending on how much love you have for the characters or their designs.